Horse-Fly-Trap Professional Horse Fly Control System
$369.99
The H-Trap Professional Horse Fly Control System from Bite-Lite® is a sturdy, chemical free solution to controlling and trapping multiple species of tabanids (commonly known as horse flies, B 52's, yellow flies, greenheads, and deer flies, etc.).  Compared to other commercial and government surveillance traps on the market, our horse fly trap has one leg, is easy to set up and maintain, UV proof, wind stable with a gyroscopic upper arm and ground anchor, and tested to be more effective in protecting humans, horses, and cattle.   Recommended coverage per horse fly trap is a 5 horse outdoor paddock or about 2.5 acres.   Assembly is required.   Two year warranty on mechanical parts. 
Need Replacement Parts?  Scroll down!  
Technical Specifications:
Unit Dimensions: 3.9′ w by 6.4′ h
Net Weight: 30 lbs.
Mounting Frame: 3 pieces under 1/8" thick.
Assembly: Required.
Tools Included: Ball pump, ball plug, plug clip, wrench, and metal hammer plug.
Product Manual:

Click for a downloadable and printable PDF
Dear Bite-lite,

Hello! We are off to another horsefly summer season here in VT. I wanted to give you some feedback regarding the lures for the H-Trap. Last summer was the first time I used them with my two traps. The same number of horse flies were caught as compared to previous summers…the big news is that I only had to use the fly sheets twice! The lures drew the horseflies to the traps and away from the horses for the most part. It was thrilling to not have to overheat the horses in their fly sheets or have to use so much spray. Yeah!

And other I also noticed that last summer we might have actually collapsed a colony of rare horseflies that Bite Lite helped me to identify. There were only a handful of them all last summer. That is great because they are big and fast and aggressive.

So, we are up and running again this year with our two traps and the lures are attached and we are looking forward to a more comfortable summer.

Thanks so much,
Kelly, Windham, VT
Fully Stocked now and ready to ship!
In stock
Description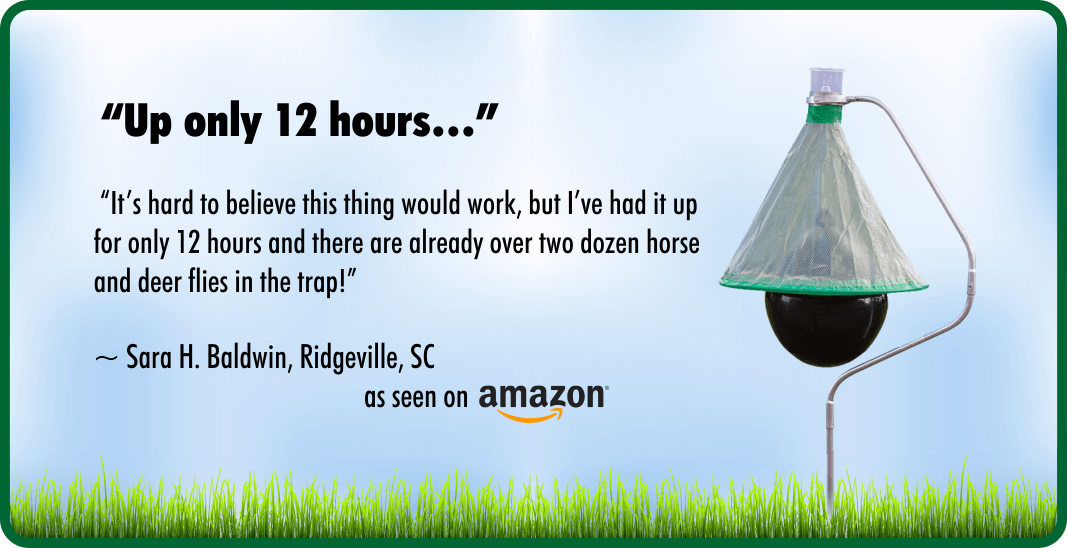 Please call if there are any other parts you need replacements for.
Additional information
| | |
| --- | --- |
| Weight | 33 lbs |
| Dimensions | 45 × 9 × 9 in |